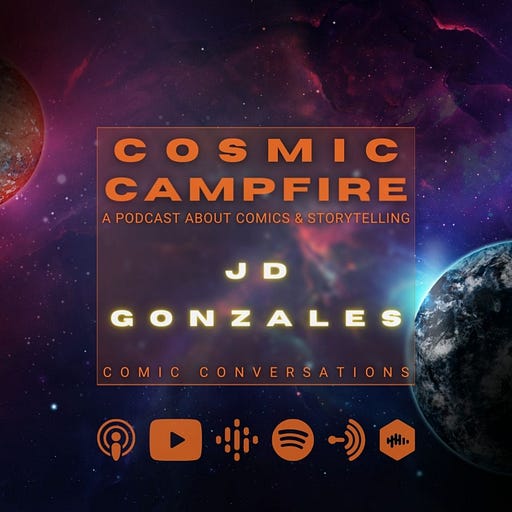 May 23, 2021 • 54M
JD Gonzales // @covenant_comics // CROSSBONES #remaster
Welcome to THE COSMIC CAMPFIRE! A space for the art & craft of storytelling. The only rule around the campfire is that you have an open mind and you listen before you speak. Pull up a seat and let's tell some stories.
A conversation with JD Gonzales, creator/writer of CROSSBONES and co-founder of Covenant Comics, publisher of CROSSBONES, AETHER, & BURLAP.
CROSSBONES 4: THE DEAD OF NIGHT: https://www.kickstarter.com/projects/jdgonzales/crossbones-4-the-dead-of-night
COVENANT COMICS on IG: https://www.instagram.com/covenant_comics/
*This is a re-edit of the original footage from a previous episode from much earlier in my 'YouTube career.'
Thank you for listening, and I hope you enjoyed it. I am always working on more content around the web, so feel free to give me a like, follow, or comment when and where necessary. I am always excited to talk about storytelling, comics, and everything in between. Again, thank you for listening, and I hope to see you around.
-Ryan
FOLLOW RATE & REVIEW THE SHOW ON PODCHASER
FOLLOW & SUPPORT ON PATREON
FOLLOW & CONNECT ON LEAGUE OF COMIC GEEKS
--FIND ME ONLINE--
YouTube: @nuexguy
TIK TOK: @nuexguy
TWITTER: @nuexguy
INSTAGRAM: @nuexguy
WEB: nuexguy.com
--PRODUCTION SOFTWARE & HARDWARE USED--
Graphics: CANVA
Editing: WEVIDEO
Recording: Acer Chromebook Spin 15 CP315 and/or Samsung Galaxy Note20 SM-N980F
Sound: Tonor TC-777 USB Computer Condenser Microphone Mic TN12009D
--- This episode is sponsored by · Anchor: The easiest way to make a podcast. https://anchor.fm/app --- Send in a voice message: https://anchor.fm/cosmiccampfire/message Support this podcast: https://anchor.fm/cosmiccampfire/support