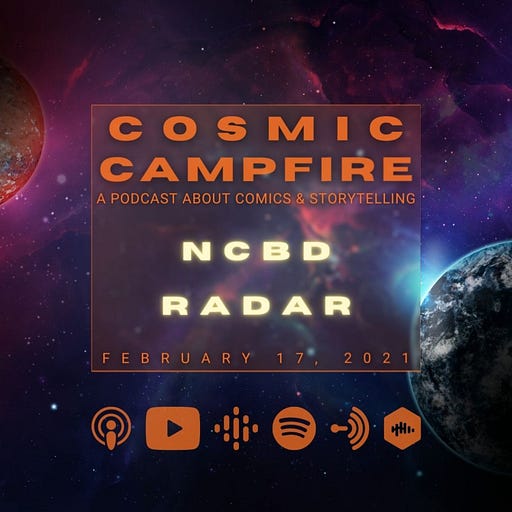 Feb 11, 2021 • 17M
NCBD RADAR // FEBRUARY 17 2021 // FUTURE STATE // SAVAGE // WE LIVE // THOR // TMNT: THE LAST RONIN
Welcome to THE COSMIC CAMPFIRE! A space for the art & craft of storytelling. The only rule around the campfire is that you have an open mind and you listen before you speak. Pull up a seat and let's tell some stories.
FEBRUARY 17, 2021. Moving into one of the final weeks of FUTURE STATE and looking at some great regular titles this week as well!
FS CATWOMAN 2
FS IMMORTAL WONDER WOMAN 2
FS NIGHTWING 2
FS SHAZAM 2
FS SUPERMAN: WORLDS OF WAR 2
FS THE NEXT BATMAN 4
SAVAGE 1
BATMAN/CATWOMAN 3
THE EXPANSE 3
KING IN BLACK 4
POWER RANGERS 4
THE LAST RONIN 2
WE LIVE 5
THOR 12
Really excited to see what happens in the second round of FS #2's this week. I am also really into BAT/CAT at this point and I shouldn't have to tell anyone how into WE LIVE and THOR I am at this point. What are you excited about this week? Is anyone going to stick with HAHA?
Let me know in the comments or on social media. Search for @nuexguy on whatever platform you are on and look for my cosmic orange and yellow themed picture.
Thank you for listening, and I hope you enjoyed it. I am always working on more content around the web, so feel free to give me a like, follow, or comment when and where necessary. I am always excited to talk about storytelling, comics, and everything in between. Again, thank you for listening, and I hope to see you around.
-Ryan
--FIND ME ONLINE--
YouTube: @nuexguy
TWITTER: @nuexguy
INSTAGRAM: @nuexguy
WEB: nuexguy.com
--PRODUCTION SOFTWARE & HARDWARE USED--
Graphics: CANVA
Editing: WEVIDEO
Recording: Acer Chromebook Spin 15 CP315 and/or Samsung Galaxy Note9 SM-N960U
Sound: Tonor TC-777 USB Computer Condenser Microphone Mic TN12009DU
--- This episode is sponsored by · Anchor: The easiest way to make a podcast. https://anchor.fm/app --- Send in a voice message: https://anchor.fm/cosmiccampfire/message Support this podcast: https://anchor.fm/cosmiccampfire/support