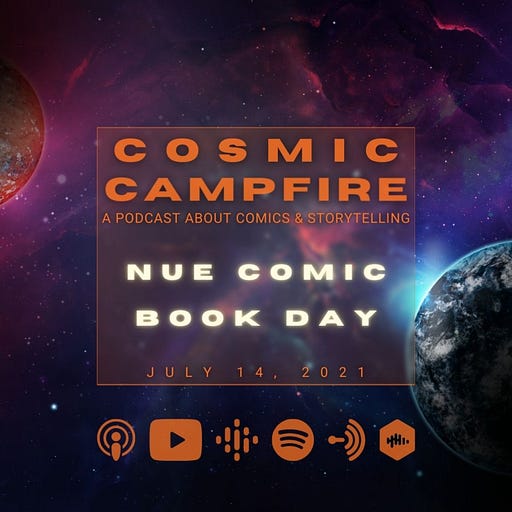 Jul 8, 2021 • 30M
NUE COMICS // JULY 14, 2021 // NINJAK // EVERFROST // JUSTIC LEAGUE // EVE
Welcome to THE COSMIC CAMPFIRE! A space for the art & craft of storytelling. The only rule around the campfire is that you have an open mind and you listen before you speak. Pull up a seat and let's tell some stories.
Here is my list of comic releases for #NCBD July 14, 2021:

NINJAK 1 // VALIANT // Jeff Parker & Javier Pulido 

EVERFROST 2 // BLACK MASK // Ryan K. Lindsay & Sami Kivela

BUNNY MASK 2 // AFTERSHOCK // Paul Tobin & Andrea Mutti 

EVE 3 // BOOM! // Victor LaValle & Jo Migyeong 

INFINITE FRONTIER 2 // DC // Joshua Williamson & Xermanico 

JUSTICE LEAGUE: LAST RIDE 3 // DC // Chip Zdarsky & Miguel Mendonca 

6 SIDEKICKS OF TRIGGER KEATON // SKYBOUND // Kyle Starks & Chris Schweizer 

SKYBOUND X 2 // SKYBOUND // Robert Kirkman, Chip Zdarsky, Daniel Warren Johnson, Irma Kniivila, Ryan Ottley, Ramon Perez, & Tri Vuong 

DETECTIVE COMICS 1039 // DC // Mariko Tamaki & Viktor Bogdanovic 

FUTURE STATE: GOTHAM // DC // Joshua Williamson & Dennis Culver & Giannis Milonogiannis 

THE JOKER 5 // DC // James Tynion IV, Matthew Rosenberg, Sam Johns, Francesco Francavilla, & Sweeney Boo 

MIGHTY MORPHIN 9 // BOOM! // Ryan Parrott & Marco Renna

BEYOND THE BREACH 1 // AFTERSHOCK // Ed Brisson & Damian Couceiro
Thank you for listening, and I hope you enjoyed it. I am always working on more content around the web, so feel free to give me a like, follow, or comment when and where necessary. I am always excited to talk about storytelling, comics, and everything in between. Again, thank you for listening, and I hope to see you around.
-Ryan
FOLLOW RATE & REVIEW THE SHOW ON PODCHASER
FOLLOW & SUPPORT ON PATREON
FOLLOW & CONNECT ON LEAGUE OF COMIC GEEKS
--FIND ME ONLINE--
YouTube: @nuexguy
TIK TOK: @nuexguy
TWITTER: @nuexguy
INSTAGRAM: @nuexguy
WEB: nuexguy.com
--PRODUCTION SOFTWARE & HARDWARE USED--
Graphics: CANVA
Editing: WEVIDEO
Recording: Acer Chromebook Spin 15 CP315 and/or Samsung Galaxy Note20 SM-N980F
Sound: Tonor TC-777 USB Computer Condenser Microphone Mic TN12009D
--- This episode is sponsored by · Anchor: The easiest way to make a podcast. https://anchor.fm/app --- Send in a voice message: https://anchor.fm/cosmiccampfire/message Support this podcast: https://anchor.fm/cosmiccampfire/support